It is a great pleasure to announce that Mayor Tomihisa Taue of Nagasaki has officially endorsed the Oleander Initiative.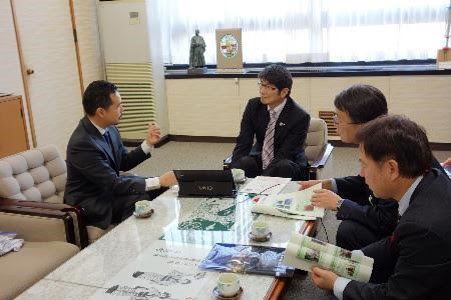 UME Executive Director, Ray Matsumiya met with Mayor Taue and his staff at Nagasaki City Hall during February, 2017. Mayor Taue showed tremendous enthusiasm for the Oleander Initiative and warmly welcomed UME's Middle Eastern and North African teachers to Nagasaki this summer. He was also impressed by the accomplishments of the 2016 Oleander participants and graciously wore the tee shirt designed by Brahim El Morabit's students at the 
Student Peace Conference 
in Marrakech, Morocco.
The meeting was also featured in the Nagasaki Shimbun on February, 17, 2017.
All of us at UME are excited about adding the city of Nagasaki to the Oleander Initiative this summer. We look forward to not only adding the voices of the hibakusha from Nagasaki, but also the city's rich history of multiculturalism and pluralism to the Oleander Initiative curriculum.
Please view Mayor Taue's letter of endorsement below.